There is not a tournament in which an arbiter does not have to deal with ELO lists. Huge lists of players, essential for organising tournaments valid for FIDE ratings. They are also updated every month. Keeping an eye out for new publications on the web, downloading the file containing the list we need and then loading it into the refereeing software, are routines we are all used to but we don't always realise how much time we waste in such processes. How many of us would like to use an application that does all that for us.
Yes, the day has come. Champion Swiss automatically loads the FIDE list when you open the application and automatically updates it every month so that you can be sure you are always working with the most up-to-date list. And all this in a transparent way for the user. Of course, we can also load a list that we have previously downloaded ourselves.
Another usual headache is when we have to work with the FEDA list, juggling to get the software to recognise the tables in the Excel document can make the less experienced referee lose patience. Juggling to get the software to recognise the tables in the Excel document can make the less experienced referee lose patience. What would happen if we give Champion Swiss the Excel file provided by FEDA as downloaded from the website? It just works. We will have at our disposal in a second tab, the brand new National ELO list.
Champion Swiss will make available to us the FIDE Combo list, which contains the three ELO rates (Standard, Rapid and Blitz). This list will be used in an intelligent way, making any of the three types available to the arbiter. At all times the month and year corresponding to that list will be indicated, so that there is no doubt.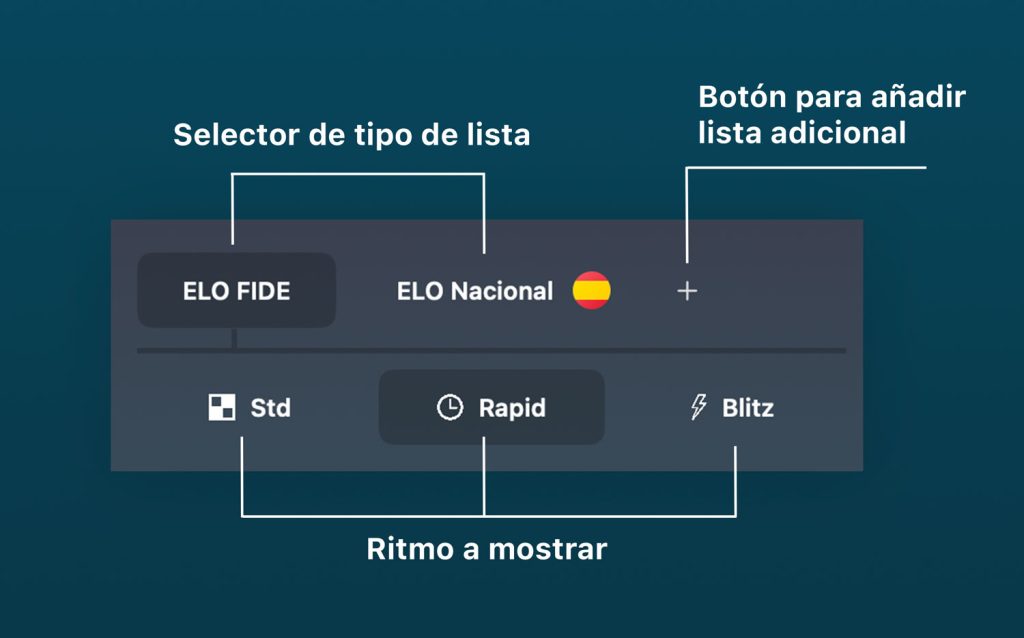 What if we want to use National ELO and FIDE in the same tournament? Not everything has to be as it is now. Merging two lists is neither the most practical nor the best. Champion Swiss does not use only one merged list. Use both, or as many as you have, at the same time. Depending on what is needed at the time, you can use one or several at the same time. So when a list is updated from the relevant federation, Champion Swiss will only update that one, and you don't need to merge anything again. Everything will be in order.
In Champion Swiss, registering players from an ELO list is a delight. We can make a list of pre-registered players and then confirm it, or register directly. A "check" will indicate the status of the player, white for provisional registration and green when the registration is definitive. The player will be marked from that moment on in the ELO list and will not be able to re-register by mistake. You can't make a mistake.
When searching, we will have at our disposal a series of very powerful filters and immediate response, such as searching by gender, year of birth, ELO band, active players or even show only players who have ELO. Nothing new, but well done.